This year we also made a new Entry Gate for our camp. It is a creation of Tomak's. He designed it from top to bottom, and made the molds for the vacuum former. We had to build a vacuum former big enough to accommodate a 4' x 8' sheet of ABS plastic. It is 40 feet wide and 21 feet tall. There is 234 separate pieces. This project took two years to complete. It takes about 8 hours to set-up. The design is based on a 16th century English cathedral.
Click on images for full view.
To see more of Tomak's works, visit Nethercraft Statuary.
Due to the fact that we only had time to put a primer coat on, the color varies from one piece to another.
Interior with vaulted ceilings and exterior view with "flying buttresses"
Some nighttime exterior views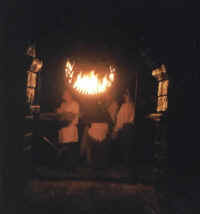 The "eye" seen from inside the cathedral.
I do all the lighting for our gates, and this is one of the schemes that I tried at this war. This was accomplished with a single 11 watt, 10* bulb.
It proved to be quite popular.