How to order
INVENTORY REDUCTION SALE CLICK HERE
A Download costs $30.00.
Is that all you need?
---
A Flat Nut Hook $45
I highly recommend this item to everyone. It will save you aggravation and hours of work. This piece is crucial to accuracy and safety, and mine are precision laser-cut to perfection. While this part is makable by most any builder, most make the comment "I wish I would have bought it instead of having to make it". They require only minor additional bending. And, only $30 with other purchase.
---
A CD and Flat Nut Hook $60
---
Helper Kit $90
1 Back up CD
1 Bowstring
1 Flat Nut Hook
---
A Welded Windlass $90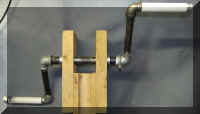 This is a welded version of the windlass described in the book.
The Windlass you receive will have been sanded and painted.
Wooden Stock not included.
---
A Printed Book $45
---
A Bowstring $30
It is not difficult to make, you can get set up to make them yourself for about $35 the jig is easy to build you will want to do this eventually if you keep this hobby long, you can find archery shops to make them for about $30-45 each. Either way it is nice to have a correct one to look at when you try to duplicate it. I sell them all day long for $30 . These bowstrings measure 55.5 inches long. Custom lengths are available.
---
Starter Kit $255
1 CD
1 complete trigger system tested and tuned (Includes nut hook, nut loop, and hardware)
1 Bowstring
This kit reduces the metal working capability requirements, to simple drilling, hack-sawing and grinding.
There is a build time for a starter kit, up to 90 days. Please contact me for more information.
---
E- mail me and I will give you the information on where to mail a check.
You can Download my book for $30.00.
The file is available as a M.S. Word 2000 .doc or .pdf You make the choice at the time of download.
Once you buy the book, you are entitled to free updates.
And advice Via E-mail is always free.
If you are interested in a complete weapon, parts, have more questions or just want to make a comment,
please send it to: