This is my "Summer Line"
Click on pictures for a larger view.
On the left is my hunter killer version with a mechanical quadrant. Next is my personal siege version with a very heavy stand and a gravity quadrant.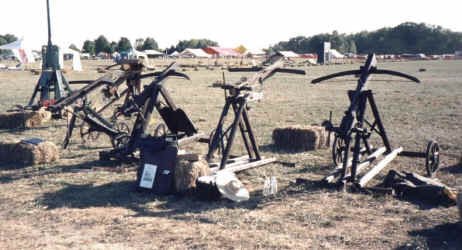 The next engine has an experimental attachment. It looks goofy but the idea is that you can roll up to a battlement opening and have a yoke mounted weapon close to the wall. I did not get to try it out though, because they did not allow engines in the west tower and the east tower was spoken for already, and the lower battlements are within spear range. The last one is a combat version with a light stand.