My Plans
"Build Your Own Arbalest for Combat or Competition", is 64 pages long, it has full color drawings, photos, charts, and, printed instructions. The book is available as Word 2000 .doc or. pdf. My book is easy to read and has corresponding photos for most of the operations. It reflects over twelve years of hands on experimenting and improvements. It even has a troubleshooting section. All this information has been tried and tested. And it makes a great gift.
The design is of a nature that is easy to construct, doesn't require a lot of special tools, and is durable. All the supplies can be bought at a local home improvement store, or may be found in a friends garage. Except for the spring, which is pretty easy to find, and the rope should be new, for best performance. If you actually had to buy all the supplies you would spend less than $150. One of these weapons could be constructed in 4 good weekends or 8 short ones.
Once you buy the book you can get updates for free.
Downloadable as a Word 2000 .doc or. pdf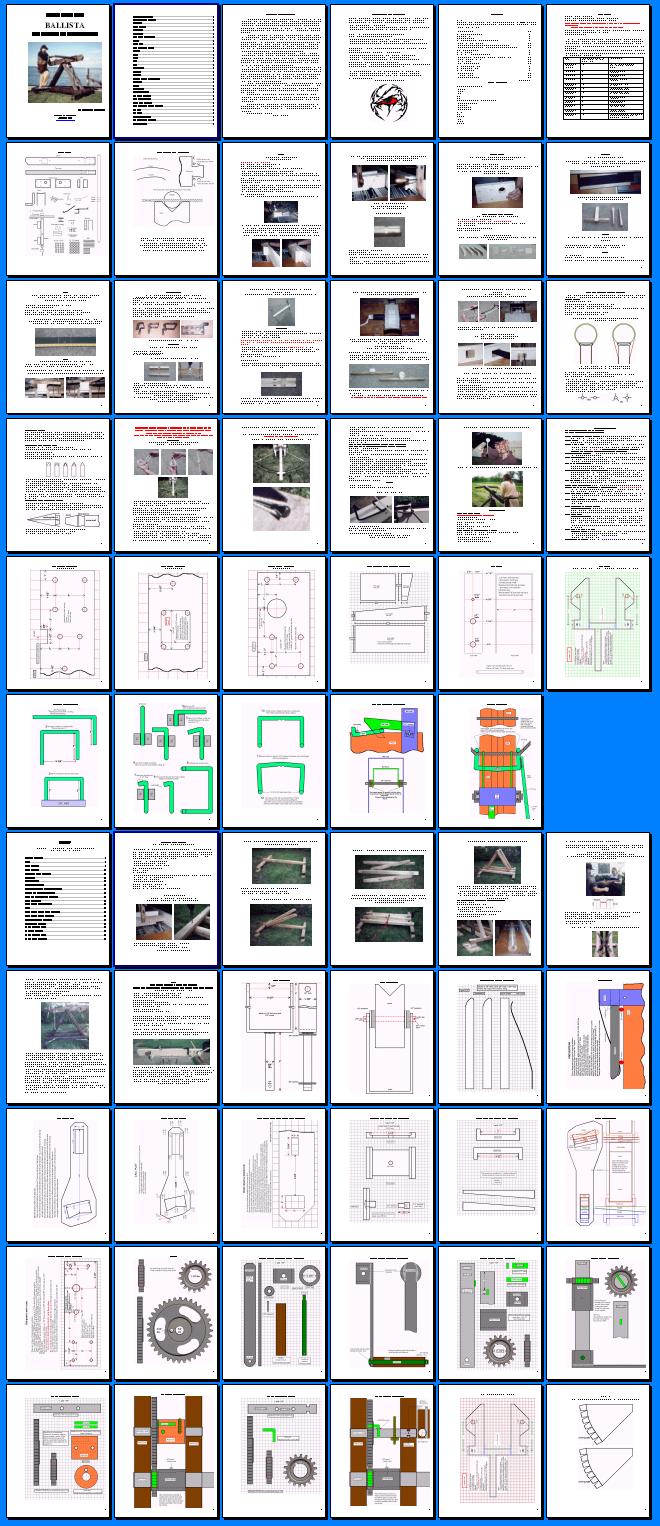 ---
Here is a list of materials and tools that you will need to complete your mission (should you choose to accept it.).
The prices will vary from store to store.
2 x 6's
Select pieces with no cracks or large knots. Most importantly, the narrow edge MUST be free of all imperfections on at least one edge. (Straight grain is best.) They must be flat and straight. Any type of wood will do, even cedar.
2 – 2" x 6" x 8' studs $7.80
1 – 16 oz. carpenters wood glue 4.85
20 – 1/2"–13 nuts 9.00
12 – 1/2" flat washers 3.00
2 – 36" 1/2"–13 threaded rod (Used to make Bolts) 5.74
1-50' 1/4'' Twisted Nylon Rope (DO NOT use diamond braided.) 2.00
2 – 1/4" x 3" x 4" oak scant shims (note grain must run parallel to 4" side) 4.95
4" of 1/4"smooth steel rod 3.99
2 – 1/8" cotter pins 0.20
1 – 2" x 4" x 8' wolmanized or hardwood 3.49
Steel .080" thick: or 12 gauge 1 – (16 Ύ" x 1 ½") 1 – (26" x 1 ½") 1 – (9" x 6") 15.00
1 – 36" x 3/8"smooth steel rod 1.65
12 – 1/4" washers 0.90
2 –leaf springs .323 x 2.5 x 30 x 30 (single leafs) 40.00
1- 3/4'' x 8'' black iron pipe 2.97
2- 3/4'' x 3/8'' reducer elbows 4.98
2- 3/8'' elbows 3.98
2- 3/8'' pipe caps 1.98
4- 3/8''x 6'' black iron pipe 7.84
2- 3/4'' x 6'' PVC pipe. 2.98
6- 3/16'' x 1.5'' drive pins 2.34
TOTAL $129.64
Tools required
Hacksaw with 4-18 pitch blades
Table saw
Grinder
Files
Rasp
Drill
Twist Drill Bits (1/8" 9/32'' 13/32'' 1/2" 9/16'' 3/16'' 3/8'')
2-8'' Parallel bar clamps
1-1/8'' Hole Saw or Spade Bit
Jig saw
Vise
Hammer
Torch
Welder
Tri-square
---